Music and Staging
The Music of Thüring Bräm
Schumann's Lied of Maria Stuart Ich zieh' dahin, dahin! Ade, mein glücklich Frankenland [I'm leaving, goodbye my happy country, my France] stands at the beginning of the chamber opera. Aloïse knew this song, which for her embodied 'the world of before'.
The other two sources for the musical form are the memories of the young opera student on Donizetti's opera 'Maria Stuarda', which incorporated a phase of religious obsession in the person of the Swiss Vaudois freedom fighter Major Davel. One gets a foreshadowing of the protagonist's inner quagmires. The atmosphere changes to stages of fright and fear through the internment in an asylum followed by a type of autism, a loss of speech. Aloïse finally finds her inner liberation and peace through an individual musical language (parallel to the color red, that she so loved and used in her painting).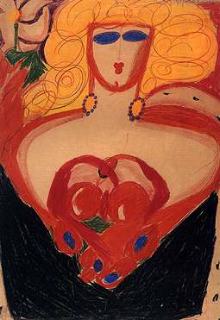 The way out of the 'world of before' ('le monde d'autrefois') brings us over a period of mumbling into another mental universe that finds expression in her metaphor 'la sonata derrière la lune' ['Sonata behind the moon'].
The instruments used allow a variety of colors and palettes of expression, which mirrors the painting. The old traditional patterns of combination, the pattern of the world before, are dissolved. At the end, a new world appears, HER world in a new form, built from the remains of a fully deconstructed world. The painter Dubuffet described this state in a letter to the curator and interpreter of Aloïse Corbaz's works, Jacqueline Porret-Forel, in which he says Elle avait découvert le plan de l'incohérent. [She has discovered the plan of the incoherent.] Also the music tries to find this.
Thüring Bräm, Composer
www.braem-boyes.ch
Notes on the staging by Pierre-André Gamba
Notes on the Staging by Pierre-André Gamba
Immediately after discovering the universe of Aloise Corbaz, I was seized with the desire to put her story on the stage.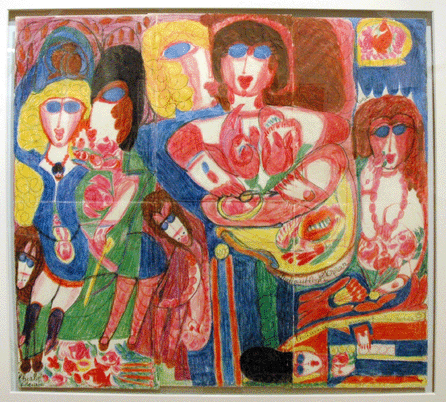 "Aloise: c'est beau le rouge vous savez" is not a simple portrait of a woman who lost her way at the beginning of the 20th century, but is a portrait of a fragility and a sensitivity which floats in a parallel world, a world that we find again, would like to re-find, a world full of vibrations, vibrancy, colors and sounds. For me, the extraordinary life of this woman who choose to speak through painting is above all a formidable fable to put into play, an experience which each actor, each opera singer would only be able to dream of confronting one day in his career, that which puts the interpreter face to face with his double.
There is really nothing to laugh about in the life of Aloise, but I attempt to approach it with subtlety, intelligence and humor because Aloise Corbaz was not a sad person. She was the center of a universe to which our logic has little access.
I try in my staging to recover all the audacity, all the humor, and all the astounding internal grinding frictions, which she transmits to us through her paintings.
Tragic situations that are successively relieved by theatrical humorous passages are the ingredients of a show, which is basically dramatic, but whose theatrical form gives it distance.
Pierre-André Gamba, Director
www.LesLimbesDuPacifique.ch
Thüring Bräm (Composer)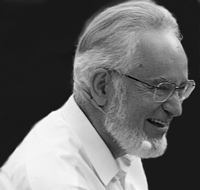 Thüring Bräm, born in Basel, has conducted regularly in and outside of Switzerland (Germany, Spain, Czech Republic, Argentina, Poland). He has given master courses in conducting in Teplice (Czech Republic), Kosice (Slovakia) and Buenos Aires (Argentina).
From 1987 to 2006, he led the conducting classes at the Lucerne Music University (formerly Conservatory), where he was the founder and main conductor of the 'Junge Philharmonie Zentralschweiz' for over 19 years. He was from 1976 - 2009 the conductor of the 'Regio-Chor Binningen/Basel' concert chorus.
Bräm is known as a composer in the national and international music scenes with more than a hundred compositions in all genres (including chamber music, orchestra works, oratorios, operas, etc.) and with first performances in, among others, Leipzig, New York, Paris, Rome, Siena, Warsaw and Washington DC. He was composer in residence at the Hokuto Festival in Japan in 2006 and has had retrospective concerts in, among others, Moscow and Cracow.
He was awarded the Edwin Fischer Prize and in 2005 was given the Kunst- und Kultur Preis [Art and Culture Prize] from the city of Lucerne.
Pierre-André Gamba (Stage Director)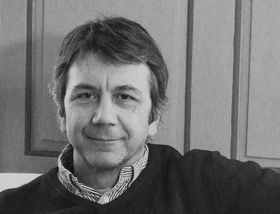 Gamba - stage director, actor, author, librettist and teacher – completed his studies at the Conservatoire de Genève.
As an actor, he has participated in over fifty productions in Switzerland, France, Belgium and Germany under stage directors such as Matthias Langhoff, Claude Stratz, Jérôme Savary, André Steiger and Martine Paschoud. Since 1988 he has regularly taught in theater studies in conservatories in French Switzerland.
His first stagings also stem from this period. He is interested in all theatrical styles from Jean Racine to Michel Deutsch. Since 1993 he has written several theater texts and has staged operas. He has worked since 1998 together with the Grand-Théâtre de Genève. In 2001, he founded in Geneva an opera workshop ("Gioco vocale") for young opera singers. In 2002 he received, together with the composer Nicola Bolens, the first prize in the competition for musical theater sponsored by the Neuchâtel Cantonal Bank for their work "La vigie". Since 2007, Gamba has taught stage interpretation for young opera singers at the Haute Ecole de Musique in Geneva.